You probably must have wondered that there is a typographical mistake in the heading and instead of Bafla it must be Baati. Because that's what most of us have heard about? Read on to clear your doubt on this!
Dal Bafla is a dish from Madhya Pradesh, which lies in the heart of India. The meal is essentially a cooked dough ball served with a side of tangy dal. The flavour is a fantastic combination of baked hard wheat and dal. Read on to know how can this dish be easily and quickly prepared at home for your next meal.
INGREDIENTS FOR MAKING DAL BAFLA 
For Bafla
Wheat Flour
Maize Flour
Cumin seeds
Ajwain
Salt
Ghee
Water
Turmeric
For Dal
Arhar Dal/moong Daal/ green gram dal (Buy Toor Dal on: Amazon
Water
Turmeric
Salt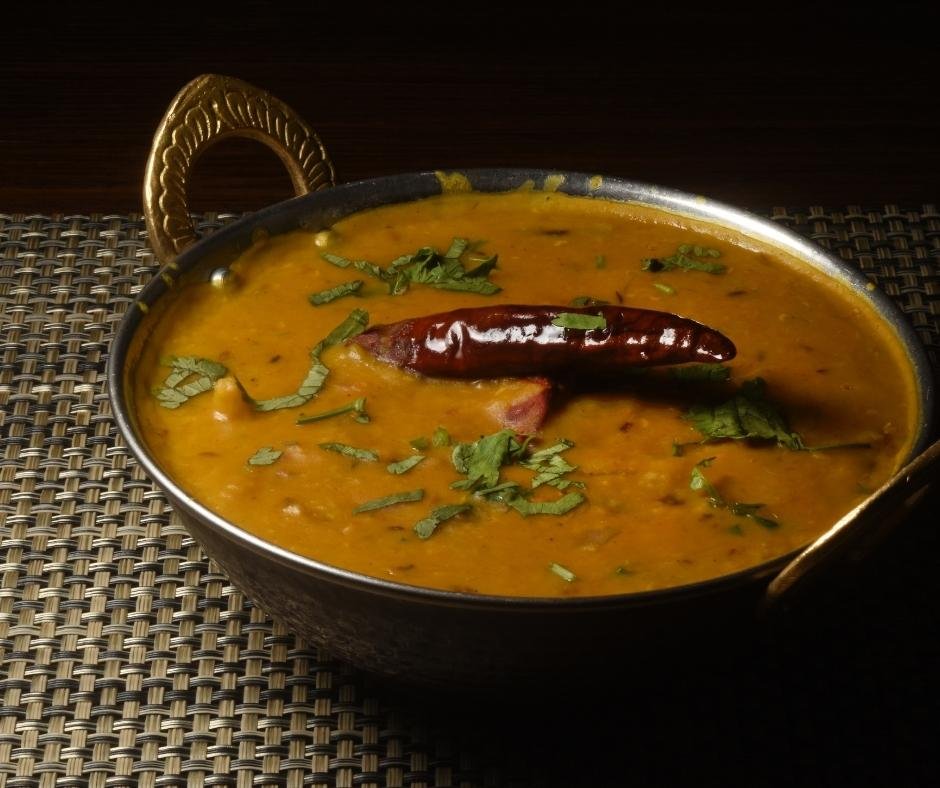 For Tadka in Dal:
Ghee (Buy Ghee on: Amazon / Flipkart
Hing
Cumin seeds
Red Chilli Powder
Onion
Green chilli
Tomato
Coriander Leaves
HOW TO MAKE DAL BAFLA?
This dish will require about 30-40 minutes cooking time and 15 minutes preparation time. Continue reading to know the step-by-step Dal Bafla recipe.
Let's first make the Bafla Bati Dough.
Take a large bowl and add wheat flour, maize flour, cumin seeds, salt and ajwain in it. 
Now add ghee/oil in the mixture and start mixing it . 
Add water when kneading the dough. Remember you need to make a semi stiff dough
Once dough is made, make small balls of it. Make sure each ball is of same proportion.
Now you need to flatten the balsa little and using your thumb or finger make a small hole in the center of the of the balls.
Once you have made the dough for the bafla bati, it's time to make boil them. You need to follow the below step to boil it:
Take a pan, pour water and turmeric in it.
Give a little stir to the water and turmeric and let it boil.
Once the mixture is boiled, put the bati balls in it and let it cook for 5 minutes in sim gas.
After 5 minutes, change the gas from sim to medium and cover the pan. Cook the bafla bati for about 10-15 minutes or till they float on the top. (In this step, you need to ensure that the bati's don't stick to the bottom of the pan) 
 Once done, it's time to remove the extra water and allow them to dry completely.
Now you need to bake these bafla bati in oven or pan!
Read Also: Rajasthan's Dal Baati Vs. Malwa-Nimar's Dal Bafla:
For Baking Bafla Bati in Oven:
Preheat your oven to 175 C.
Till the time the oven is getting preheated. Arrange the batis in the baking tray.
Once oven is preheated, bake these batis for good 25-30 minutes or till the top turns light golden in colour.
Using a kitchen towel, lightly press hot bati with your palm. The batis are to be cracked slightly, so don't press them too hard.
Take ghee in a bowl and soak these baatis in it for a few seconds. Your Bafla Bati are ready!
For Baking Bafla Bati in Pan:
Take a pan and add salt to the pan.
Put a stand on the pan and on the stand put a plate. Now, cover it with a lid. Turn the flame of the stove high and let the pan get pre-heated for 10 minutes.
After 10 minutes, take out the plate and apply ghee all over the plate.
Put the bati on the plate and cover them with a lid.
On medium flame, bake the bati for 10 minutes.
After 10 minutes, flip them and bake them again for 10 minutes.
Using a kitchen towel, lightly press hot bati with your palm. The batis are to be cracked slightly, so don't press them too hard.
Take ghee in a bowl and soak these batis in it for a few seconds. Your Bafla Bati are ready!
Your Bafla Bati is ready, now its time to make Dal.
You can either take arhar dal or mix dal, add salt and turmeric and pressure cook it for 5-6 whistles.
In a kadhai, add ghee, cumin seeds and pinch of hing. Saute it.
Add chopped/grated onion, ginger garlic paste, and green chilli to the pan and mis well. Next, add tomato and sauté well. (If you don't eat onions, you can skip adding them in the tadka.)
Once this mixture is cooked add turmeric, chilli powder, garam masala and salt.
Pour the dal in this mixture. Lower the flame and boil it for 5 minutes.
 Garnish the dal with coriander
AND its time to skip to the good part which is to eat this delicious Dal Bafla.
Read Also: 8 Famous Ratlami Food Items You Are Missing Out On!
Frequently asked Questions
What is the total cooking time for preparing Dal Bafla?
The preparation time is 15 minutes and the cooking time of Dal Bafla is 30-40 minutes, which means the total cooking time for Dal Bafla is 45-55 minutes.
What is the difference between Dal Bafla and Dal Baati?
They key difference between both them is that the dough balls for baati can be prepared straight in the oven or in the microwave. But in the case of bafla baati, the dough balls are cooked in turmeric water before being baked.'
Bafla Baati is famous in which state?
This traditional dish origin can be traced From Madhya Pradesh.
How to bake Dal Bafla in Flyer?
Preheat the air fryer to 375°F and set the timer for 10 minutes. After 10 minutes, flip the bati and cook for another 8 minutes. Bafla should turn a golden-brown colour and its ready.
CONCLUSION
Dal Bafla is a dish that is comparable to Rajasthani Dal Baati, which is one of Rajasthan's most popular cuisines. Dal Bafla, also known as Bafla Bati indore, is a popular western Indian dish. The Malwa region of Madhya Pradesh, India, is where 'bafla baati' originated. Traditionally, bafla was served with a high-protein mixed dal, but it is now served with a variety of curries. It's also delicious with yoghurt-based curries from Rajasthan. People in ratlam also add ratlami sev in it which enhance it's taste. Do try this recipe at your home!