Do you know how ratlami sev's name came into existence and where is this famous snack from? Well! This fried crispy snack is famous in Madhya Pradesh and is named after a city of Madhya Pradesh named "ratlami". Don't be astonished if you find this sev in every corner of the city!
Don't tell us that you are reading this name for the first time here. This sev is available all over India and is very famous. If you haven't tried ratlami sev then you definitely should! It is a very famous and crispy snack which is easily available in local stores and can also be prepared at your home. Yes! In this article, we will be telling you the recipe of ratlami sev so that you can make it at home and what secret ingredients are used in preparing it. So, let's get going!
INGREDIENTS USED IN RATLAMI SEV
Ratlami sev is a great blend of spices! Do you know what makes ratlami save different from other types of sev? It is the thickness and the spices. Let's know the ratlami sev ingredients which are used in its preparation.
250 grams of besan
Cooking Oil -1/2 cup
Pinch of Turmeric
Water -3/4th cup
1 tablespoon salt
Lemon juice
Pinch of soda
Oil for frying sev
For preparing the spices –
20 peppercorns
15 cloves
½ tablespoon ajwain
1 tablespoon black salt
1 tablespoon fennel seeds
1 tablespoon ginger powder
1 tablespoon red chili powder
1 tablespoon of asafetida
Apart from the ingredients, you would need a sev maker or chakli maker for making sev.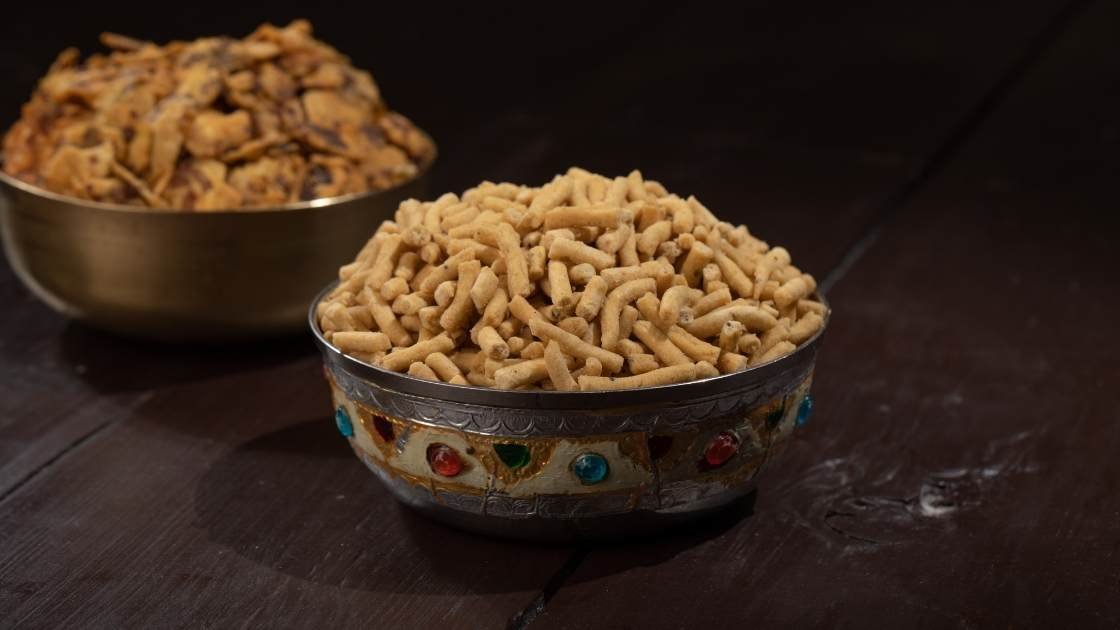 Also Read: Why Ratlami Sev Is Famous? The Saga of Ratlami Sev
HOW TO MAKE RATLAMI SEV
After knowing the ingredients, it's time to come into action and prepare ratlami sev at home. Don't worry it is not difficult, the preparation of ratlami sev is easy and simple. So, let's learn step-by-step the procedure on how to make ratlami sev at home.
Let's first learn how to make the perfect spice mix! All you need is a pan and spices which include cloves, pepper, fennel seeds, and ajwain. Roast these spices in a pan without any oil. Yes, these ingredients need to be dry roasted.
After roasting these ingredients, take them out and grind the spices that have been roasted. Make sure a fine mixture is made.
Take out the powder in a bowl and keep it aside.
Now take 3/4th cup of water and ½ cup of cooking oil in a jar. It's time to blend them! You need to blend (you can use a mixture or hand blender or just do it by hand) the mixture until it becomes white.
In this white mixture, add lemon juice, 2.5 tablespoons of the spices mixture, soda, and blend all these ingredients again. You need to blend it for a minute.
As per the quantity specified above, take gram flour and the above-blended mixture in this gram flour. Don't add the whole mixture together, add and mix in small amounts. 
Now you need to make a soft dough of this mixture. This dough should be greased with oil.
Now keep the dough in a sev maker with a medium net size.
It's time to fry the sev! Take a pan and heat some oil in it. Don't heat the oil in a high flame. You also need to grease the sev maker. Press the mold over the pan to make sev.
Let the sev cook from both sides. Don't turn over the sev until they come on the surface of the oil. You need to cook this until they become crispy.
When the sev turns golden brown, it's time to take them out.
The best way to drain the excess oil is to place the sev on napkins so that napkins absorb the oil.
Now, the best part (you can also take the help of your children in this, just make sure they are not too hot) is to crush the sev into small pieces.
Your ratlami sev is ready. Enjoy this sev with tea or with poha.
This sev should be stored in an air-tight container when they cool down completely.
CONCLUSION
Ain't the ratlami sev banane ki vidhi easy? When you taste the ratlami sev, you are going to love it. Ratlami sev has a good texture and is soft and crispy. The origin of Ratlami sev is from Madhya Pradesh. Do you know this sev is also known as laung sev? The essence of this save lies in the spices primarily the clove, pepper, and carom seeds. Share the recipe of ratlami sev with your friends and they will thank you later!