If you are any what of a foodie or snacker, you have to know what sev is – especially Ratlami sev. It is a very popular snack that has gained nationwide popularity for its delicious taste and simplicity.  In fact, it is so popular that many variations of the snack have been concocted – you can even buy Ratlami sev online these days. 
Have you, however, ever heard of the story that talks about the origin of Ratlami sev? It's not only an Indian snack, it is a part of Indian history owing to the circumstances and age in which the recipe was created. 
If you are wondering what led to sev being cooked up and why it is so famous, you have come to the right place. Here is the saga of Ratlami sev and why it is so famous all over India. 
RATLAMI SEV: THE ORIGIN (रतलामी सेव : शुरुआत)
Ratlam is a small town in Madhya Pradesh, once a princely state with rich heritage and culture. It is with this place that Ratlami sev is associated as this is the place where it was first accidentally made sometime in the 19th century.
What happened back in the 19th century that led to the creation of this snack is that the Mughals were passing through Ratlam. As they were traveling and passing through Ratlam, they expressed a craving for seviyan, which is made out of wheat. At the time, the region was not producing any wheat and seviyan could not be prepared without it.
As the Mughals were desperate to fulfill their craving, they demanded that the Bhil tribals of the region prepare makeshift seviyan for them by substituting wheat with gram flour. As a result, sev was first prepared. Sev gains its name from seviyan, which it was created to replace. 
Ratlami sev is extremely popular because sev itself was first prepared in this region even if it is now widely manufactured in many parts of the country and can easily be found anywhere. What adds even more to its popularity is the unique blend of ingredients used to spice it up. Let's take a look at what these are.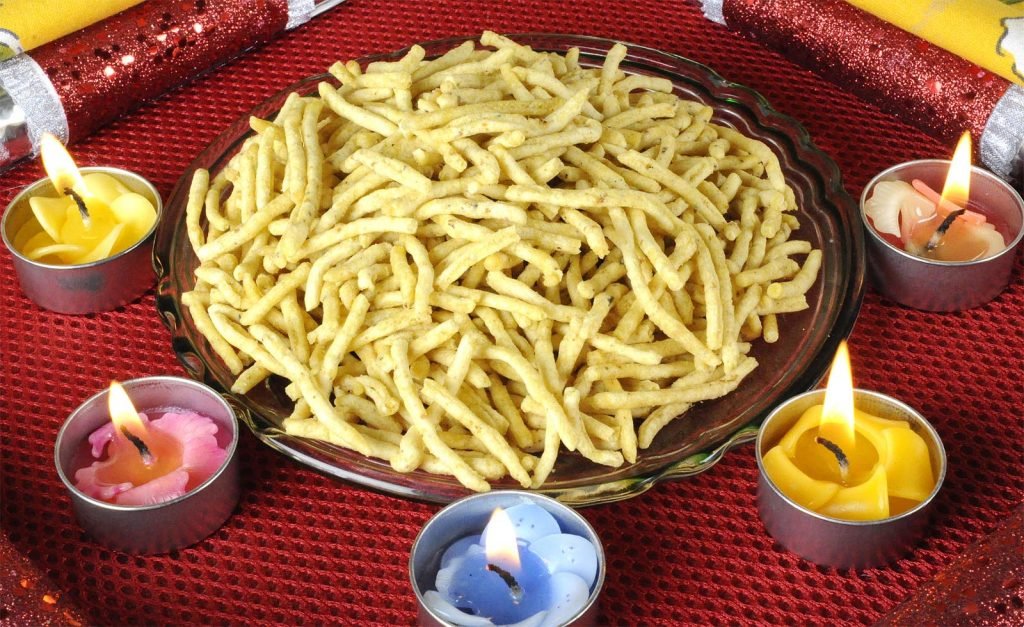 INGREDIENTS USED IN RATLAMI SEV THAT SET IT APART FROM OTHERS
Ratlami sev ingredients that make it so delicious, other than gram flour include pepper, cloves, cardamom seeds, and other spices. Nowadays, there are so many flavors available as new ingredients are mixed in with the original recipe to create even more varieties – you can even buy garlic sev these days!  
The snack is very crunchy, spicy, and tangy – the perfect topping for all sorts of breakfast dishes and curries. Even those dishes that do not necessarily need to be served with sev are served with some serving of it, that's how commonly used and regularly consumed this snack is. 
There are so many variations that you won't ever get bored and can find something that suits your flavor palette and spice tolerance considering that sev is available in 3 different levels of spice to make sure no one is deprived of the joy of eating sev.
WHERE YOU CAN BUY RATLAMI SEV FROM?
Tempted to get your hands on this famous snack but don't exactly know where you can get it? Well, you have nothing to worry about – you don't have to travel all the way to Ratlam to get sev. 
Being so popular and in-demand, it is easily available and can be found in almost all grocery stores. If you can't find it in any grocery store near you, you can even buy it online. There are so many brands that partner with home-delivery services to make sure that sev reaches those who want it. 
The best part? The snack is not very expensive and is one of the most economical ones you can buy. If you are going through a money crunch and struggling with finding snacks and food items that can help you spice up a bland meal, Ratlami sev is the perfect food product for you. 
Let's take a look at what people who have made Ratlami sev a daily part of their food habits have to say about this mouth-watering snack.
RAGING REVIEWS ON RATLAMI SEV 
"It has become a monthly must-buy condiment for us. Everyone loves the Laung Sev on Poha and the Sev Rassa recipe. Also goes well with a simple mixture of puffed rice, chopped tomatoes, onions, and coriander for a light evening tea time snack." 
" I can't imagine eating poha without Ratlami sev, it's the perfect combination. I even eat sev with milk or tea. It is a staple part of my diet."
THE VERDICT ON RATLAMI SEV
As the reviews – only two of the thousands of positive reviews – indicate, Ratlami sev is a tasty snack that can complete any meal. It is available in so many flavors that you can buy a new one every month! 
As if this wasn't interesting enough, even the history of this snack is intriguing and makes you curious enough to at least try it once. 
is ratlami sev healthy?
No, Ratlami sev is not healthy as it is a fried product. But, people love it crazily
Which city is famous for sev in India?
Ratlam is the famous city for sev and have it's GI tag for identification of true Ratlami Sev. This city export sev and people from the corners of India visit to buy sev.
Is Ratlami SEV spicy?
No, it depends on your taste preference. There are 9+ type of sev which include: Clove sev, Spicy sev, Fiki sev, Garlic Sev, Thick sev, Small sev, etc.