About Ratlam, Madhya Pradesh
Have you heard about Ratlam or maybe Ratnapuri? Situated in the Malwa region of Madhya Pradesh, Ratlam will surprise you with its unique appeal, resonating with a beauty derived from the impressive combination of an impressive historical background and a burst of modernity. The magnificent structures that adorn the cityscape transport you back to the city's ancient times as you stroll around it. It was a significant trade center in prehistoric days. Its reputation is maintained today by the thriving industries of textiles, chemicals, copper, and so on. 
Ratlam is a city in the western Indian state of Madhya Pradesh. It has a long and rich history, dating back to ancient times. According to legend, Ratlam was founded by the Rajput ruler Ratan Singh, who ruled the area in the 16th century. Ratan Singh was the son of Mahesh Das of Jalore and the great grand son of Raja Udai Singh of Jodhpur. So, basically, all three of them had rendered valuable military assistance to Emperor Shah Jahan by defeating the Persians and Uzbeks in Afghanistan.
As a result of their assistance and to recognize their act of bravery, large territories in the southwestern districts of Rajputana and northern Malwa were conferred on them as a reward. Earlier the city was named Ratram (named after Raja Ratan Singh and his first son Ram Singh) but later on, was changed to Ratlam.
During the British Raj, Ratlam was India's first commercial city and transportation hub, with a large railway yard and a busy market. It was also the center of the freedom struggle, with many prominent independence activists and leaders coming from the city. The city quickly became known for its opium, tobacco, and salt trades, as well as its "Sattas," or bargains. Before the Rajputana State Railway reached Khandwa in 1872, there was no better place to trade than Ratlam.
In the post-independence period, Ratlam has grown significantly and has become an important industrial and cultural center. It is known for its handloom textiles, woolen blankets, and traditional sweets.
Today, Ratlam is a thriving city with a rich cultural heritage and a bright future. It is a popular tourist destination, with many historical and cultural sites to visit, including the famous Jain Temple and the Ratlam Fort. Not to forget, the city is well-known for its love of food, particularly the world-famous salty snack 'Ratlami Sev'. Oh! and Ratlam's gold jewelry and saree market are unrivaled in India. (Try out yourself!)
Geography & Climate of Ratlam
Ratlam is located in the western Indian state of Madhya Pradesh, in the western part of the country. It is situated at an elevation of about 500 meters (1,640 feet) above sea level. The city is located in the fertile Malwa Plateau, which is characterized by rolling hills, fertile agricultural lands, and forests. The Chambal River, a major tributary of the Yamuna River, flows through the region.
It has a tropical wet and dry climate, with hot, dry summers and cool, wet winters. The temperature in Ratlam varies widely throughout the year, with average daily temperatures ranging from around 30 degrees Celsius in the summer to around 20 degrees Celsius in the winter.
The summer months, from April to June, are generally very hot and dry, with temperatures reaching up to 45 degrees Celsius at times. The monsoon season, from July to September, brings some relief from the heat, with cooler temperatures and heavy rainfall. The winter months, from October to March, are generally cool and dry, with daytime temperatures hovering around 20 degrees Celsius and nighttime temperatures dropping to around 10 degrees Celsius.
Overall, Ratlam has a pleasant climate, with plenty of sunshine and moderate temperatures throughout the year. However, it can get very hot in the summer, and the monsoon season can bring heavy rainfall and the risk of flooding.
Places of Interest in Ratlam
Ratlam is graced with both classic and modern architecture. Ratlam offers a wide variety of tourist spots ranging from places of worship to a variety of sightseeing options, from incredible ancient monuments to well-built houses of the modern day. If you are planning to visit Ratlam, the best time to visit is between October to March. 
Ratlam Fort: This fort was built by the Maratha ruler Maharaja Jaswant Singh in the 17th century and offers beautiful views of the city. The fort is built in the shape of a square and has four gates, each named after the direction it faces. 
Cactus Garden Sailana: It is one of Asia's largest cactus gardens, with over 1200 species of cactus, 50 of which are Indian. Cactus species found in this garden include bulb cactus, bell cactus, snake cactus, old man cactus, peacock feather cactus, etc.
Shri Sai Nath Hot Springs: These hot springs are believed to have medicinal properties and are a popular tourist attraction in Ratlam.
Kharmour Bird Sanctuary:  The well-known Sanctuary, which was founded in 1983, is named after the 'Kharmour' bird, a very rare species. A wide range of exotic migratory birds can be seen here. This sanctuary is the breeding ground for Lesser Florican in India.
Shri Swaminarayan Mandir: This temple is one of the most important religious sites in Ratlam and is known for its beautiful architecture.
Dholawad Dam: The dam is a beautiful picnic spot and a must-see attraction that is not only peaceful but also has a beautiful landscape. The dam is about 15 kilometers from Ratlam, near Dholawad village. The Dholawad dam has recently become a popular destination for water sports and adventure sports enthusiasts.
Ratlam Museum: The museum has a collection of ancient coins, manuscripts, paintings, sculptures, and other artifacts that date back to the Mughal and Maratha periods. It is a great place for history buffs and those interested in learning about the cultural and artistic traditions of the region. 
According to the 2011 Census of India, the population of Ratlam is approximately 325,000. The city is located in Madhya Pradesh, a state in central India, and is known for its rich cultural heritage and history.
Ratlam has a diverse population, with people belonging to various cultural and religious backgrounds. The majority of the population follows Hinduism, with smaller communities of Muslims, Jains, and Christians. The city is also home to a number of cultural and linguistic groups, including Marathi, Hindi, and Gujarati.
The city has a relatively young population, with a median age of around 27 years. There are 964 females for every 1000 males. Children aged 0 to 6 years old account for 29,763 people. Ratlam had 204,101 literates, accounting for 77.0% of the population, with male literacy at 81.2% and female literacy at 72.8%. The majority of the population is engaged in agriculture, manufacturing, and the service sector.
Events / Festivals in Ratlam
Ratlam is known for its rich cultural heritage and diverse community. The city celebrates a number of festivals like Holi, Diwali, Navratri, Ganesh Chaturthi, etc. throughout the year, which are an important part of the cultural life of the city.
Ratlam Railway is a division of the Western Railway zone of the Indian Railways. The division covers an area of approximately 8,000 square kilometers and serves the districts of Ratlam, Jhabua, Dhar, Alirajpur, and parts of Indore and Ujjain. The division operates both passenger and freight trains and serves a population of over 20 million people. Some of the major stations in the Ratlam division include Ratlam Junction, Indore Junction, Ujjain Junction, and Mandsaur. Did you know Ratlam is the first-ever clean railway station in Indian Railway Network?
Ratlam is a prime center for Delhi – Mumbai highway and has a vast network of roads to support the local traffic connecting to different cities like Mandsaur, Neemuch, Indore, Ujjain, Bhopal, Ahmedabad, Dahod, etc. The under-construction Mumbai – Delhi Expressway also passes from Ratlam making it the center once again. Which will help Ratlam to grow economically.
Ratlam does not have an airport of its own. The nearest airport is located in the city of Indore, about 100 kilometers to the south of Ratlam. Indore Airport, also known as Devi Ahilya Bai Holkar Airport, is an international airport that serves the city of Indore and the surrounding region. For emergency and private landing, Ratlam has an Air stripe named: Banjali Air Stripe.
Ratlam is known for its vibrant markets and shopping districts. Although the city doesn't have big and lavish shopping malls it has numerous small markets and shops where one can purchase and experience traditional shopping methods. Visitors to the city can find a wide range of products, including traditional handicrafts, textiles, jewelry, and other souvenirs.
Here are some popular shopping destinations in Ratlam:
Chandni Chowk - Gold Jewelry Market Of Ratlam
Chandi Chowk is the heart of Ratlam city. There are more than 1000+ small & big jewelry retailers which include big names like DP Jewellers, Sakhi Jewellers, Kataria Jewellers, DC Jewellers, and more. People from across India visit here to buy pure gold jewelry. Ratlam has been manufacturing and selling 92% gold jewelry which is even more than the standard set by the BIS. We have created a list of the top 10 Jewellers in Ratlam to make your jewelry shopping easy. Ratlam's Chandi chowk at night turns into a food street, where ice cream, sandwiches, Paratha, Juice, and Paani Puri all are available. The night food streets are open from 7 PM to 12 PM.
Economy and Industrialism in Ratlam
Ratlam is famous for three S – Sev, Sona, and Saree which means Ratlami Sev, Gold, and Saree market and constitutes the majority of the economy of Ratlam.
Ratlam is home to several industries that produce copper wire, plastic ropes, chemicals, and oxygen, among other things. Ratlam city is home to many huge companies like Dp wires, Dp abhushan ltd, and katria wire ltd is located in Ratlam. Apart from this, Soybean, wheat, maize, gramme, cotton, garlic, onion, grapes, and opium are among the major crops grown in Ratlam's Jaora Tehsil.
Ratlam has a good no. of industries where- IPCA laboratories is the one of the biggest followed by: Kataria Wires Private Limited, DP Wires Limited, and Kataria Plastics Private limited. Ratlam has various industries like Wire manufacturing, PVC Pipes & rope Manufacturing, Oxygen, and chemical industries. The newly developed Namkeen Cluster is helping outshine ratlami sev and other snacks in the entire county. Nearly 15 new factories are setup in the Namkeen cluster in the last 3 years.
The gold market of Ratlam is like a mini-industry providing jobs to 2000-3000 people directly.
The few big jewelry brands of Ratlam are DP Jewellers, Sakhi Jewellers, Kataria Jewellers, DC Jewellers
Ratlam is known for its cultural and historical significance and is home to several temples that are visited by people from all over the region. Some of the notable temples in Ratlam include:
There are 2 big Jain temples on the outskirts of Ratlam city. 
Karamdi Jain Tirth, Ratlam
This temple is dedicated to the First Tirthankar of Jainism Aadinath. This temple is more than 200 years old. The main attraction of this temple is that it is a copy of Jain Tirth Palitana. As you can see in the images. This temple is renowned recently and has been a plan to build a Dharamshala and Bojanshala for devotees.
Address: Shri Shatrunjya Tirth Dham (Karamdi Tirth), Karamdi, District-Ratlam (M.P.)
Timings: Morning: 5:30 am to 11:30 pm, Evening : 5:30 pm to 8:30 pm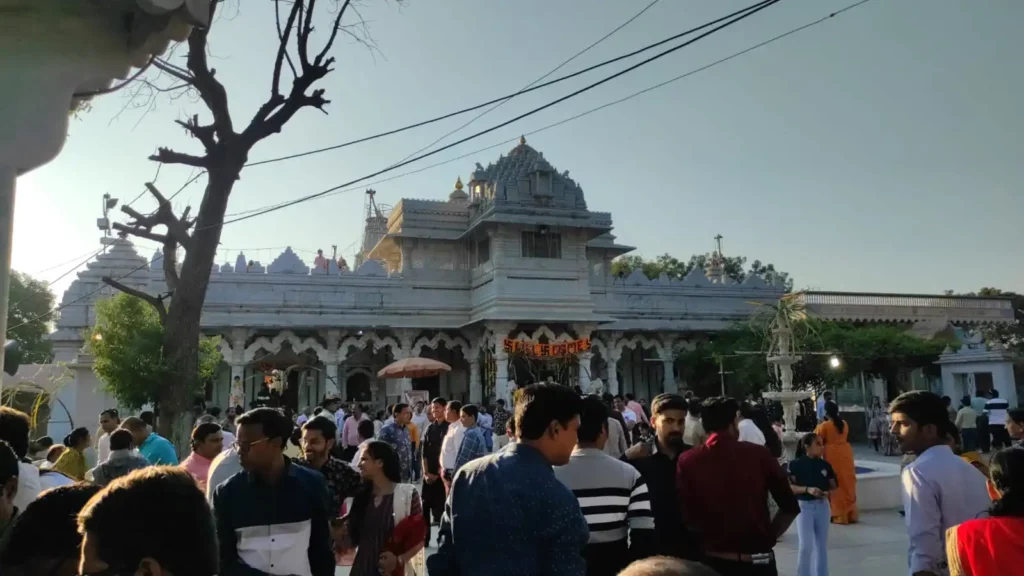 Bibrod Jain Tirth, Ratlam 
Bibrod Tirth is a 13th-century Temple. This temple is dedicated to Adinath, the 1st Tirthankara of Jainism. Moolnayak is a 2.5 ft (0.76 m) black-colored idol of Bhagawan Adinath in the Padmasana posture. The inscription on his idol belongs to a period earlier than even the thirteenth century. This tirth is also famous for its annual fair which is popularly known as "Bibrod Mela". 
Address: Bibrod, Ratlam, Madhya Pradesh, India
Timings: 5 am to 9 pm  (All days)
Mahalakshmi Temple, Manak chowk, Ratlam
The Mahalakshmi Temple in Ratlam is a small and popular religious place for Hindus. Mahalakshmi Temple is a Hindu temple dedicated to the goddess Lakshmi, the goddess of wealth and prosperity, in Ratlam, Madhya Pradesh, India. The temple is located in the heart of the city and is a popular place of worship for devotees from all over the region. During the major Hindu festival of Diwali, this temple is lavishly decorated with cash, gold, and silver ornaments. 
Visit this fascinating structure and breathe in the spiritual air as bells and aarti soothe your mind and soul. The temple is surrounded by bustling markets, allowing you to explore Ratlam and collect artifacts and souvenirs reflecting the city's rich heritage.
Address: Near Manek Chowk Police Station
Timings: 6 am to 11 pm  (All days)
Kalika Mata Mandir
Kalika Mata Mandir is a popular temple dedicated to the Hindu goddess Kali in Ratlam, Madhya Pradesh, India. The temple is located on the banks of the Hathisingh pond and is known for its beautiful architecture and peaceful atmosphere.
According to legend, the temple was built in the 19th century by the queen of Ratlam, who had a vision of the goddess Kali in a dream. The temple is considered to be a very sacred and powerful place of worship, and devotees from all over the region come to offer prayers and seek blessings from the goddess. If you are planning to visit the Kalika Mata Mandir in Ratlam, it is recommended to dress modestly and follow the rules and customs of the temple. 
Address: Anand Colony, Shastri Nagar, Ratlam, Madhya Pradesh 457001
Timings: 5 am  to 9 pm
Ratlam is a city in the western Indian state of Madhya Pradesh about 300 kilometers southwest of the state capital, Bhopal. The city is also a major transportation hub, with several national highways passing through it. Ratlam has a rich cultural history and is home to several temples, mosques, and other historical landmarks. It is known for its delicious food, particularly the Ratlami Sev. Ratlam City has seen spectacular progress in terms of urban development, public facilities, administration, tourism, and other areas.  
Ratlam me Ratlami Sev khana mat bhoona! 
Frequently Asked Questions