Ah! The summers are here. Don't you all feel like staying in AC and inside your home during this time? Well, Why not try something new?
How about enjoying this summer by making a visit to a water park. In the extreme heat, it feels fantastic to swash and enjoy the waters of the swimming pool. The excitement of spinning down water slides and relaxing in the water will provide you with a sense of joy, thrill, and excitement. 
Make this weekend extra special for yourself by visiting the Babus water park in Ratlam with your family or friends to splash and soak in revitalizing waves. It's time to  get away from the daily hustle for a few hours with a perfect blend of thrills and splashy entertainment!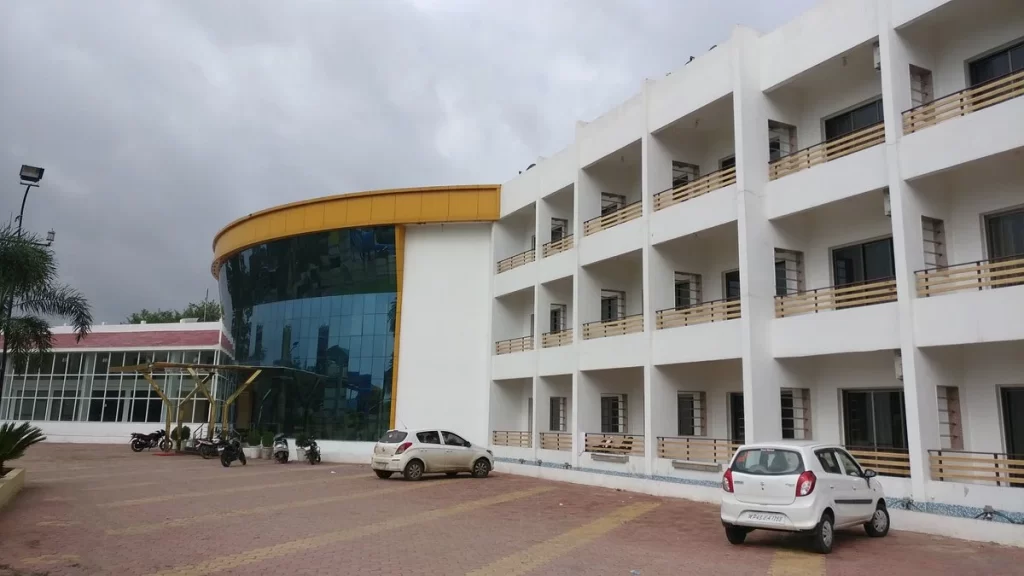 Babus Water Park Ratlam
You will be surprised to know that Ratlam's Babus Water Park is the only listed water park in Ratlam. It serves as a one-stop fun destination for people both local and from other areas of Ratlam. The belief that customer satisfaction is as important as their products and services has helped this Water Park build a large customer base that is growing by the day. 
This Water Park is located in Rudra Palace which is owned by the newly elected mayor of Ratlam , Mr Prahlad Patel. It is basically a hotel with a small waterpark inside the hotel located 0.5 km from the Barbad Hanuman Mandir and 5 km from Ratlam Railway Station.. Along with a water park this three-story hotel has 50 luxurious rooms, 2 marriage gardens and 3 spacious banquet halls. All the three banquet halls are spacious, having a capacity of more than 300-400 people.  
Read also: Planning to Stay in Ratlam: Check these Budget Friendly Hotels
When you enter the water park you will be amazed by the atmosphere and the cleanliness.The staff are very friendly and prompt in providing services. In case you need water or a coffee to regain the energy they have a coffee shop inside the water park. Also, in case you are wondering that you don't have a swimming costume or cap, then don't worry, they do provide these at a very nominal cost. They also provide a paid locker facility where you can keep your valuable items.
Address: Behind Barbad Hanuman Mandir, Sailana Road, Ratlam, Madhya Pradesh 457001
Timings: The Water Park is open from Monday to Sunday. However the timings differ. 
Tuesday – Sunday : 10am to 6 pm
Monday : 10:15am to 4pm
Entry Fees: The price of ticket per person ranges from Rs 300- 400.
Contact Number: 9907623617
Frequently Asked Questions
Where is Babus Water Park located?
Babus Water Park is located in Ratlam, Madhya Pradesh. It is just behind the Barbad Hanuman Mandir which is on Sailana Road.
What is the nearest landmark to Babus Water Park?
The nearest landmark to this Water Park is Barbad Hanuman Mandir. The hotel is just behind this mandir.
How far is Babus water Park from Ratlam Bus Stand?
The Water Park is 6 km from Ratlam Bus Stand.
What are the facilities provided in the water park?
There is a coffee shop , locker facility, slides both for adults and childrens, washroom facility., free wifi and onsite restaurant.
Is it good to visit the Water Park in summers?
When it comes to spending a day out in the summer, nothing beats water rides. These rides allow you to relax and rejuvenate while experiencing the ultimate fun and excitement. Water parks help to calm the senses and make you forget about the summer heat.
What are the popular nearby attractions to Hotel Babus Water Park?
Nearby attractions to Hotel Babus Water Park include Kedareshwar Temple (3.00 km), Shri Shantinath Digmber Jain Mandir (4.9 km), Limbdeshwar Mahadev Mandir (6 km) and Dholawad Dam (15.0 km).
Are there any close restaurants to Hotel Babus Water Park?
Yes, Swad's The Royale Blue, The Five Elements, and Hotel Balaji Central are all nearby restaurants.
What is babus water park ratlam ticket price?
Babus water park entry ticket price is Rs. 350 per person. While the charge for locker is Rs. 30 extra.
Read also: Buying Guide: Ratlami Sev Online & list of shops.
Conclusion
The thrill of going down a water slide or the thrill of riding a roller coaster to that big drop can wash away even the most stubborn concerns. We are sure that spending a day at a Babus water park will provide you with a great physical workout while also allowing you to connect with your friends and family. Refresh and rejuvenate – put a smile on everyone's face and plan this special day. You need to keep an eye on the children if you have them in your group. If necessary Insist on water safety equipment, don't forget to stay hydrated, and apply sunscreen.