A quick question for all of you reading this article. Which is the best place to see a movie? Your smartphone? Maybe your laptop? What about the back of an aeroplane seat? What about being alone at home? Or maybe your home theater?
Well, these options are great but the best place is the Cinema. Don't you agree with us?
From queuing to enter the hall, walking through the door, standing up for the National Anthem, watching all the new trailers, rushing to get popcorn in the interval to losing ourselves in a film with our friends or family. Don't you love the concentration that comes from sitting in a dark auditorium in front of a dazzling shiny screen surrounded by shimmery, tuneful sounds. It's more of a way of life than an activity. Don't we all love the escape? There is one such cinema in Ratlam which has a vibe and aura that will make you fall in love with it. Excited to know which cinema is it, then continue reading.
NY Cinemas Ratlam
Website: http://www.nycinemas.co.in/
Phone Number : 07304555128/02240083300
NY Cinema was founded by the famous Bollywood actor , Ajay Devgn. He  has a true passion for movies, and NY Cinemas was founded as a result of his idea to provide everyone with a first-rate multiplex experience. The main aim to open NY Cinema is to bring back the old world charm of watching movies with unique concept driven theaters. He is the first superstar to lead a cinema chain, and he brings with him not only star power, but also a fresh perspective on the movie industry.
"I want to bring back the romance of cinema to the modern multiplex experience. I want to create spaces that showcase my love for filmmaking and bring people closer to their favorite films and stars, no matter where they come from. I want to create a place where people can fall in love with cinema once again."

Ajay Devgn words
So by now, you must be curious to know is NY full form and where is this taken from? Well, its Mr. Devgn's children, Nyasa and Yug. The whole idea of NY Cinema is rooted in love.
The next question that must be revolving around your head must be: What makes NY Cinema different from the other cinema's? NY Cinemas will make movies available to all irrespective of their age and disability while providing a quality cinema experience unlike any other. From including elderly people and handicapped friendly facilities in the cinemas to employing these people in the theaters and providing them with more opportunities to live a respectful life, NY Cinema will definitely bring people together. NY Cinema aims to make it a place where no one feels excluded and a place dedicated to the love of cinema.
Read also: Planning to Stay in Ratlam: Check these Budget Friendly Hotels
Along with Ajay Devgn, two more people have an important role in the foundation of NY Cinema. First, the Co-founder and Managing Director of NY Cinema is Kumar Mangat,a producer of renowned Hindi films like Omkara, Special 26, Drishyam, and Raid who has won a National Award, has more than 30 years of production and talent management experience. His keen financial acumen and artistic vision laid the groundwork for elevating NY Cinemas above the competition. Second, Rajeev Sharma , the Chief Executive Officer gives NY Cinemas an edge over its competitors with his more than 22 years of experience in business development. He has been successful in spreading NY Cinemas' activities throughout India.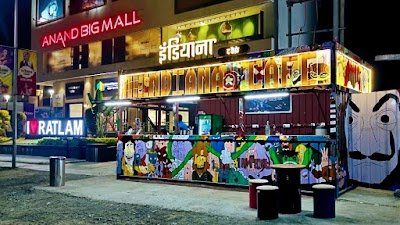 The NY Cinema is inside the first ever mall of Ratlam, Anand Big Mall, it is just 3.8 km from Ratlam Junction and 1.9 km from Ratlam Bus Station. It also has a corporate office which is located in Andheri East. Both the addresses are mentioned below:
Address: Anand Big Mall Dmart Road, Bypass Rd, near Midtown Township, Ratlam, Madhya Pradesh-457001
Corporate Office Address: NY CINEMAS LLP., 406, Morya Landmark II, New Link road, Oshiwara, Andheri West, Mumbai – 400053.
Apart from being operational in Ratlam, NY Cinema is already functional in 19 screens across India, including Hapur, Ghazipur, Raebareli, and Greater Noida. The journey doesn't stop here,the plan is to expand to 250 screens in the next five years.
Read also: The Saga of Ratlami Sev: Why is it so Famous?
Frequently Asked Questions
Who is the founder of NY Cinema?

The owner of NY Cinema is the famous bollywood actor, Ajay Devgn. He is the first superstar to lead a cinema chain.

What is NY Cinema?

NY Cinemas, which is named after Ajay Devgn's kids Nyasa and Yug, promises to offer a distinctive cinematic experience that embodies the actor-passionate director's love of movies.

Is NY Cinema only operational in Ratlam?

No, NY Cinema is operational in Bhuj, Ghazipur, Hapur, Sangrur, Pilkhuwa, Raebareli, Surendranagar and Greater Noida.

What is the nearest landmark to NY Cinema? 

The nearest landmarks are D Mart and The Five Elements
Read also: Top 10 Jewellers in Ratlam: That You Must Try
Conclusion
NY Cinema in Ratlam is a unique bollywood themed cinema. It is not the founder who has made it unique but it is the people who are working there, they have! A place where people are going to fall in love with cinema again.  Next time you plan to watch a movie with your family or friends or maybe alone, visit NY Cinema for a fun filled experience.